Urdu Academy's rich tribute to Faiz Ahmed Faiz
By Abdus Sattar Ghazali
February 13th marked the 99th birth anniversary of Faiz Ahmed Faiz, a great Urdu poet who brought a revolutionary change to the way poetry was written, combining socio-political messages and revolutionary ideas with the sweetness of Urdu language.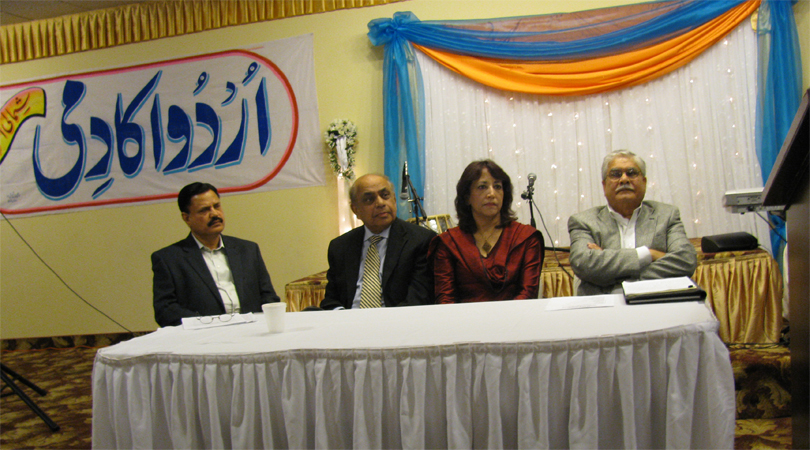 The Urdu Academy dedicated its February 21st monthly literary evening to the life and work of Faiz. The event, held at the Chandni Restaurant, Newark, CA, drew a large crowd of the Urdu lovers from the Bay Area. The event was presided over by Parvin Shere, a well known artist, musician and poetess. (Picture shows from left: Dr. Tahir Mahmood, Prof. Waris Shere, Parvin Shere and Tashie Zaheer.)
After the elaborate lunch, the session started. It was a very unique event. Instead of reading Maqalas, Tashie Zaheer, President of Urdu Academy, very artistically narrated the background with a brief description of each poem of Faiz before every recital. It was delivered in such a fashion that took away the monotony and made the whole event extremely interesting, informative and enjoyable.
Tashie Zaheer introduced in length the presiding guest Parvin Shere from Canada. During his address Mr. Zaheer said, it is rare to have three artistic talents in one person. He mentioned about her award winning Coffee Table book of poetry and painting with English translation KIRCHIAN(Fragments) and her latest publication Nihal-e-Dil Par Sahab Jaise(Raindrops on Parched Land).
He remarked that Parvin is a social activist and uses her art for that purpose. Upon the conclusion of the second session, the chief guest Parvin Shere thanked the Academy president Tashie Zaheer and expressed her deep appreciation for the remarkable, tireless hard work, and selfless dedication he has contributed for the Urdu world. She gave special tribute to Faiz by reciting her poem in Faiz's ZAMEEN.


More than a dozen poems, recited at the event, covered multi-dimensional aspects of Faiz's poetry that is seen as a beacon of light for the oppressed segments of the society and the voice of the poor people's conscience.

Among those who presented the poetry of Faiz, included: Abdul Razzak Adenwala, Abdus Sattar Ghazali, Affif Siddiqui, Asim Bajwa, Asim Khan, Dr. Akhtar Jabeen Lateef, Fauzia Timberlake, Hameeda Banu, Iftekhar Hae, Inder Mohan Singh, Khalid Rana, Ken Sherfy, Mukesh Kacker, Meraj Sultana Ghazali, Misbah Rahman, Naveeda Ellahie, Nagesh Avadhaney, Dr. Tahir Mahmood, and Tashie Zaheer.

It was a news to many that Faiz also composed poems in Punjabi which was his mother tongue. Dr. Tahir Mahmood recited his mystic Punjabi poem, "Rabba Sacheya".

The program was organized very skillfully to present the popular poetry of Faiz and also to educate the audience about the life and work of the great poet.
What distinguishes this program from others is that the recitation of each poem was preceded with the narration of events and circumstances leading to the creation of that particular ghazal or Nazm. These presentations were made by Tashie Zaheer, the Urdu Academy President and Dr. Tahir Mahmood, who shared the MC responsibilities with Tashie.

Tashie Zaheer was of the view that Faiz used the medium of poetry to create awareness among the masses about the importance of freedom and individual identity for which he suffered a lot during his life, but never compromised on his principles and national interest. Apart from being a great revolutionary poet, he was a great romantic poet and his love for humanity is free from the prejudices of race, color and nationality.

Faiz was born on February 13, 1911 in Sialkot. He achieved command over Arabic and Persian languages during his high school life. Faiz did his Masters in English in 1932 from Government College Lahore and MA in Arabic from Oriental College.


Faiz became a lecturer in English at M. A. O. College, Amritsar in 1935 and then at Hailey College of Commerce, Lahore. He briefly joined the British Indian Army and was promoted to the rank of Lieut. Colonel in 1944. He resigned from the Army in 1947 and returned to Lahore.

Faiz started a branch of Progressive Writers' Movement in Punjab in 1936. Also he was a Member and Secretary of this branch. Faiz was also an Editor of Mahanama (Monthly) Adab-e-Lateef (1938-1942 AD). He was editor of the monthly magazine Adabe-Latif from 1947 to 1958. Faiz distinguished himself as a journalist and was editor of the Pakistan Times, the Urdu newspaper Imroze and the weekly Lail-o-Nihar. After the miltary coup led by General Zia ul haq in 1979, Faiz lived in self-exile in Beirut writing for the Afro-Asia Writers Association journal, Lotus, until his return to Pakistan in 1982.

Faiz was charged with complicity in a failed coup attempt known as the Rawalpindi Conspiracy Case and was sentenced to four years' imprisonment in 1951. The jail term gave him a first-hand experience of the harsh realities of life, and provided him with the much-needed solitude to think and write poetry. Two of his greatest works Dast-e-Saba and Zindan-Nama were products of this period of imprisonment.

In the matter of diction and style, Faiz may be called the inheritor of the tradition of Ghalib. His admiration for Ghalib is also reflected in the title of his first published work, Naqsh-e-Faryadi, which comes straight from the opening line of the first ghazal of Diwan-e-Ghalib.

Faiz is a "committed" poet who regards poetry as a vehicle of serious thought, and not a mere pleasurable pastime. Faiz was a nominee for the Nobel Prize and in 1963 was the first Asian poet to win the Lenin Peace Prize. He recorded for the Library of Congress in Lahore in 1977. The Library of Congress has fifty-two works by him. Faiz passed away in 1984.