By Abdus Sattar Ghazali
The Urdu Academy of North America dedicated its December 19, 2011 literary meeting to the life and work of Kishwar Naheed is one of the best known feminist poetess of South Asia.
Poet Arshad Rashid chaired the event held at the Chandni Restaurant, Newark, CA. Tashie Zaheer, President of the Urdu Academy was MC of the program. He read a paper on the life and work of Kishwar Naheed wo was born in Bulandshahr, Uttar Pradesh, India in 1940, her family moved to Lahore in Pakistan during the 1947 Partition of the sub-continent.
Kishwar Naheed's poetry was read by Osman Rashid, Nagesh Awadhani, Mukesh Kackar, Meraj Sultana Ghazali, Abdus Sattar Ghazali, Jawed Umerani, Naseer Humayun and Dr. Tahir Mahmood.
Master Osman Rashid, who is learning Urdu, drew wide applause for his excellent presentation.
Nagesh Awadhani stole the show by presenting three ghazals in his melodious voice.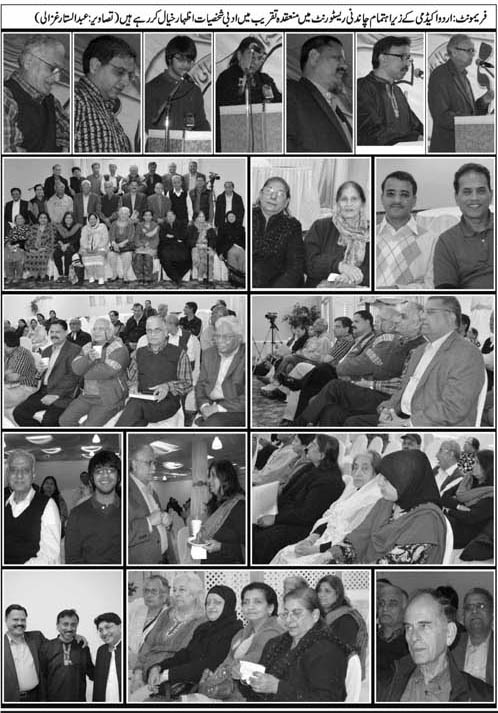 In his maqala (paper) on Kishwar Naheed, Tashie Zaheer provided a detailed view of this great poetess, prose writer and feminist activist.
Kishwar had to fight to receive an education at a time when women did not go to school; she studied at home and obtained a high school diploma through correspondence courses, but went on to receive a masters degree in Economics from Punjab University.
She has written more than 10 collections of poetry, two anthologies of English translations of poetry published in India and 16 collections of children's stories.
In a field dominated by traditional male voices Naheed, writing in Urdu, was pioneer of a new, distinctively feminine voice and has produced over the span of thirty years a body of work that is innovative, defiant, political, and self-aware.
She made a literary debut with 'Lab-e-Goya' in 1969 after her post-graduation in economics from Government College, Lahore. This was followed by 'Khayali Shakhs Se Muqabla', 'Saukhta Samani-e-Dil' and 'Mein Pehley Janm Mein Raat Thi'. The ghazals and nazms in them were unsettling in their freedom and bravura, as if the world they cared for existed on a level that was dizzyingly intimate yet heroic.
Naheed was also a leading spirit in polemical anthologies, 'Aurat Khwab Aur Khak Ke Darmiyan', 'Dasht-e-Qais Mein Layla', etc., that took issues with the notion that female writing was bound to be informal, visceral, a revolt against the symbolic order, a breaking of the waters.
Her poetry has been translated into English and Spanish and her famous poem 'We Sinful Women' gave its title to a ground breaking anthology of contemporary Urdu feminist poetry translated and edited by Rukhsana Ahmad published in London by The Women's Press in 1991.
Kishwar was married to Poet Yousuf Kamran, raised two sons with him as a working woman, and then continued to support her family after his death in the Eighties.
Kishwar Naheed held administrative roles in various national institutions. She was Director General of Pakistan National Council of the Arts before her retirement. She also edited a prestigious literary magazine Mahe naw and founded an organisation Hawwa (Eve) whose goal is to help women without an independent income become financially independent through cottage industries and selling handicrafts.