Ashfaq Hussain said that there is a misconception that the poets/writers, enjoying a prosperous life in the adopted homeland, do not have the understanding and perception of the problems of their native country. However, this is not true, Tashie Zaheer is enjoying a comfortable prosperous life in America, but like any other Diaspora poet/writer, he is nostalgic about his native motherland: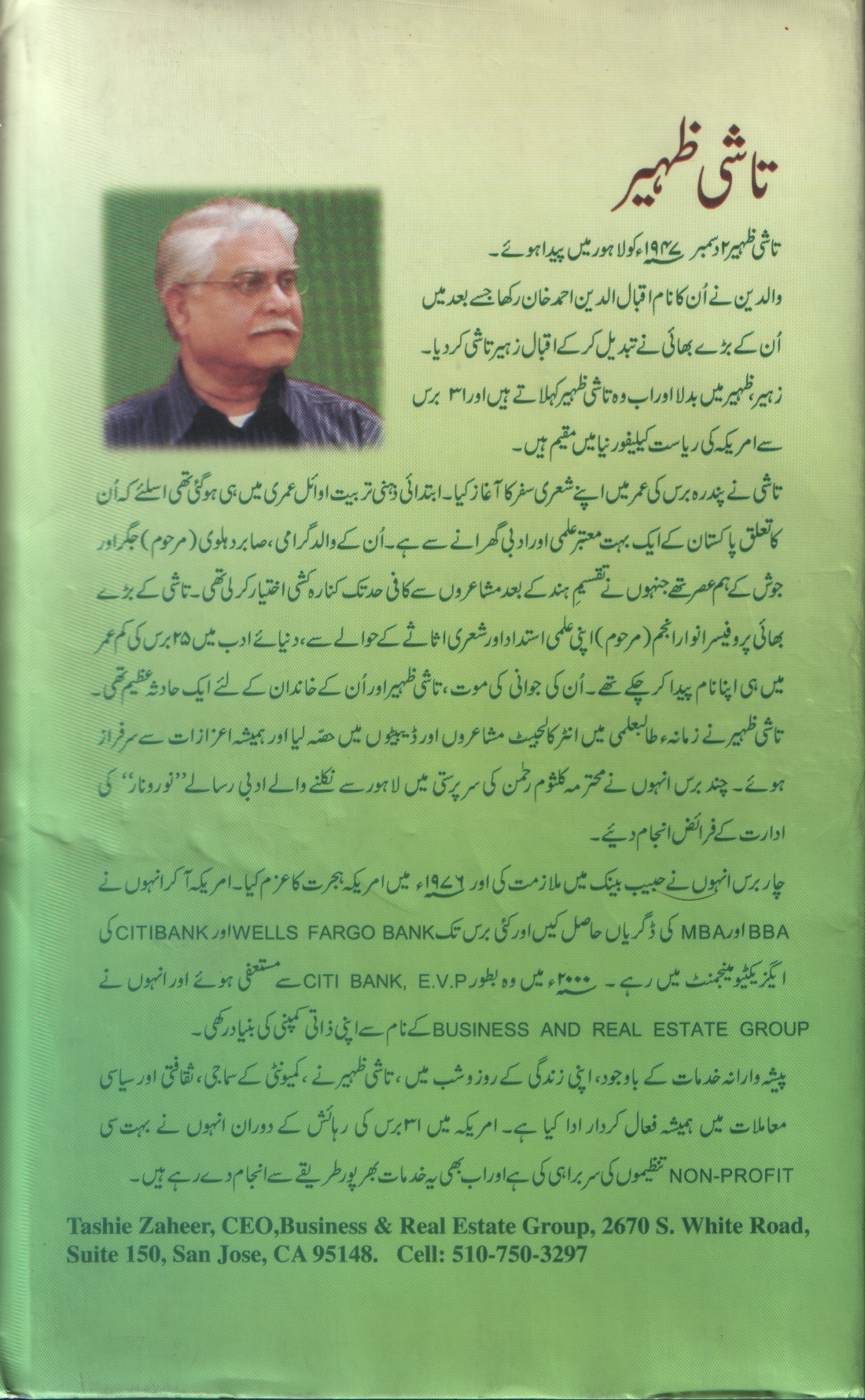 Khud Hee Rehti Thee usey Nit Na'e Mosam Ki Talash
Mosham-e-Hijr Milaa Hai To TaRapta KyoN hay
DIASPORA MYTHOLOGY
Like Tashie Zaheer, this thread of conflicted nostalgia is strongest in North America's most Diaspora poets and writers. In fact, in the last half-century nostalgia – which is a combination of "returning home" and "ache" – has taken on a different texture.
To borrow Benzi Zhang, the author of The Politics of Re-homing, the transfer of peoples and cultures from all over the world to America and Canada has generated an intricate trans-nationality and cultural globality, which are based upon the tension of discontinuity and overlaps of different cultures.
Benzi Zhang argues: In a sense, Asian Diaspora poetry represents a paradoxical feeling of both homesickness and home-crisis, for the movement between multiple locations of cultures suggests a co-belonging dialogue which, by situating diasporas simultaneously inside and outside of a culture, intensifies both the desirability and the impossibility of a given home-place.
Rey Chow, the Hong Kong born author of Writing Diaspora is of the view that a direct result of this race for speed that dominates life across the globe is the emergence of the migrant--the involuntary passenger-in-transit between cultures, for whom homelessness is the only home "state."
California University History Professor James Clifford encapsulates the dilemma of the Diaspora in the following words: "The empowering paradox of Diaspora is that dwelling here assumes solidarity and connection there. But there is not necessarily a single place or an exclusivist nation."
For Julia Kristeva, author of Strangers to Ourselves, a Diasporan's "origin certainly haunts him, for better or for worse, but it is indeed elsewhere that he has set his hopes, that his struggles take place, that his life holds together today." (Continued on next page)