Tribute to a Literary Giant
By Ali Hasan Cemendtaur
Jashan-e-Haqqi, a literary evening organized by Bay Area Urdu lovers to pay tribute to Dr. Shan-ul-Haq Haqqi, was brimming with energy, and the discussions that started at the event spilled out of the program to continue for days in smaller gatherings.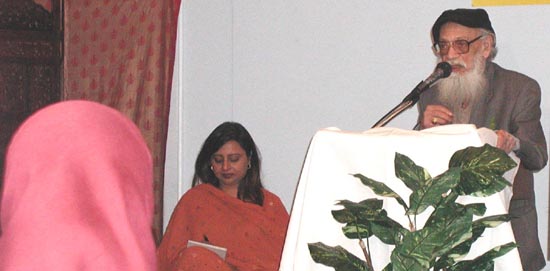 The illustrious literary career of Dr. Shan-ul-Haq Haqqi began in pre-partition Delhi, reached eminence in Pakistan, and to this day marches on with vigor-he was born in 1917 and celebrated his 86th birthday this September 15 (2003). With his relentless contributions in poetry and prose Shan-ul-Haq Haqqi has indeed found his place in Urdu literature pantheon.
Having authored more than 25 books in various genres, Dr. Shan-ul-Haq Haqqi is an acclaimed poet, short-story writer, prose and poetry writer for children, journalist, critic, translator, lexicographer, and linguistic scholar, all rolled into one. He is also a celebrity-maker. Thirty years ago Naheed Akhtar rose to prominence when she sang a ghazal written by Haqqi--"Tum say ulfat kay taqazay na nibha'ey jaatay".
Of late, Dr. Haqqi has moved from Pakistan and lives in Canada, with his son. He was invited to the Bay Area by the Urdu Academy of North America (www.urduacademy.org).
Prose Session: Opening the prose session of Jashan-e-Haqqi, Tashie Zaheer, the chief organizer of the event, eulogized the highly efficient and prolific literary life of Dr Haqqi. He quoted a critic who described the litterateur in these words: "Haqqi is not a man. He is a genie who can work wonders in any field of literature he jumps into."
Noshi Gilani, an accomplished poetess, read a beautiful encomium eulogizing Haqqi's work in various fields of literature.
This correspondent was also given a chance to pay homage to Dr. Haqqi.
Jahangir Hamdani, history professor and a literature connoisseur, said he had always dreamt of meeting Dr. Haqqi in person and his dream had finally come true. He said that Dr. Haqqi's poetic musings were invaluable gifts to Urdu lovers and he prayed that those wanderings would continue.
Rahman Siddiqui, a noted poet, recounted his experiences with the living legend. His association with Dr. Haqqi goes back to the time when Siddiqui Sahab ran the newspaper Urdu Link. Dr. Haqqi was a regular contributor to the poetry section of the paper.
The prose session of the evening concluded with a speech by Dr. Haqqi. In a natural humble manner, Dr. Shan-ul-Haq Haqqi said he didn't know the man the speakers so eloquently praised. He said that a poet owes a lot to the society because it is what happens around him that makes him say the thing he says. Dr. Haqqi also said that once poetry is written or read to people, it becomes the people's property; people have the right to interpret it in any way they wish.
Dr. Haqqi also commented on this scribe's observations about the domination of languages over each other. He said that Urdu could never possibly wipe out the regional languages of Pakistan. He gave historical examples of regional languages obliterating the invading languages.
Tashie Zaheer, on behalf of the Urdu Academy, presented Dr. Haqqi a lifetime achievement award.
Q&A: The speeches were followed by a question and answer session -- an opportunity for the audience to learn more from the visiting scholar. To the chagrin of this correspondent the main focus of discussion during the Q&A session remained on the domination of Urdu in Pakistan.
Dr. Haqqi said that Urdu was neither imposed upon Punjab nor was it a recent arrival in that area. Even before independence it was a prevailing practice in Punjab to speak Punjabi in everyday life, but to write in Urdu. And this was not any different from practices in various parts of UP where people spoke Purabya but wrote in Urdu. [Urdu, before independence, was considered to be a cultural bond between the Muslims of the subcontinent; it was only after independence that, in Pakistan, it was assigned the status of the language of one particular grou,p i.e., the immigrants from present-day India]. People from all parts of present-day India came to Pakistan [for better opportunities]. Many of them didn't speak Urdu at home but later adopted it as the lingua franca, Dr. Haqqi said.
He said that with the formation of Pakistan there was a need for a national language so that various groups could communicate with one another, and Urdu, very naturally, filled that void. And the fact that Urdu was not the language of any native group in Pakistan made it more acceptable to all.
Dr. Shan-ul-Haq Haqqi rejected the claim that Urdu, when it comes to hurting regional languages of Pakistan, had an exploitive nature. He said that the group whose language is considered to be Urdu does not have any political power in Pakistan to exploit anyone.
A question was raised about the change in the script used to write the Urdu language. The questioner observed that because of the growing communication over the Internet more and more people are now writing Urdu in Latin alphabets; he asked Dr Haqqi's opinion on whether this is going to hurt Urdu. Dr. Haqqi didn't think writing Urdu in Latin alphabets was in any way detrimental to the language. He said that the issue of Urdu's script was raised much earlier too and he advocated the use of Devnagari script for Urdu wherever it was convenient. There is no rule that a language can only be written in one script. More scripts for one language mean more ways to communicate, Dr. Haqqi said.
Dr. Haqqi said that no institute is needed to ensure the growth of the Urdu language. No one can force the growth of any language; it is the common people who decide which words will be included in the language and what the syntax of expression would be. He gave the interesting example of the Urdu translation of inoculation; he said that if a 'committee' was formed to come up with a translation of vaccination it would have looked in Arabic and Farsi and would have come up with a word that would have been too alienated from the regional scene. But the common man on the street came up with the word 'teeka' for inoculation and 'teeka' gained popularity.
Poetry Session: In the spirit of the Bay Area Urdu
literary events the main program was followed by a poetry session. The sitting was emceed by Noshi Gilani.
A laudable element of the evening was the inclusion of Punjabi poets; many of them were from Eastern Punjab. The appreciators of the poetry too were from both sides of the border.
The following prominent Bay Area and Southern California poets recited their works: Ms. Noshi Gilani, Mr. Tashie Zaheer, Mr. Faisal Azeem, Mr. Zia Zafeer, Ms. Surjit Kaur, Mr. Seerat, Mr. Tara Sagar, Mr. Azad Jalendhri, Mr. Majid Siddiqui, Mr. Irfan Murtuza, Ms. Asfa Nishat, and Mr. Rehman Siddiqui.
The poetry session that continued in the wee hours of the morning didn't tire the octogenarian scholar. Dr. Haqqi not only appreciated the poetry of all poets, but also gave a zealous performance at the end reading his poems; some of those poems were written decades ago, but Dr. Haqqi didn't have any problem in reciting them.
Various Urdu literary organizations cater to the needs of the growing Urdu-appreciating population of the Bay Area. The two most prominent among them are the Bazm-e-Arbab-e-Sukhan and the Urdu Academy of North America. It is heartening to see a congenial relationship between the apparently competing organizations. Jashan-e-Haqqi, organized by the Urdu Academy at Mehran Restaurant in Hayward on Friday, September 5, was attended by about 120 people, and the patrons included the team that is the moving force behind Bazm-e-Arbab-e-Sukhan.
After visiting the Bay Area Dr. Shan-ul-Haq Haqqi flew to Phoenix, Arizona where a similar program was arranged by a local Urdu society. Mr. Tashie Zaheer, Ms. Noshi Gilani, and Mr. Rehman Siddiqui accompanied Dr. Haqqi on that trip.
(Courtesy Pakistan Link - September 2003)