On the sober note, Syed Ilyas Ahmed presented many popular poems of famous poets related to the current situation in Pakistan such as Suna hai janglouN kaabhee koii dastoor hota hai by Zehra Nigaah. He also presented:
Boorha panwari by Majid Amjad
Yadish Bakhair by Prof.Jalilud Dola
Waqt by Javaid Akhtar
Mushtaq Ahmed Yousefi's satires, Meri Beewee Ne Billi Palee and PIA's air hostesses and ground hostesses also drew wide applause.
He also presented poetry of many popular poets including Josh Malihabadi, Amjad Islam Amjad, Gulzar, Hariwachan Rai Bachan and Prof. Andaleeb Shaadani.
At the end Syed Ilyas Ahmed entertained the audience with humorous verses some of which he read on the buses.
During the 1990s when Finance Minister Sartaj Aziz was appointed as Foreign Minister after the Nawaz Sahrif government seized foreign currency accounts, a verse on a Karachi bus read:
Koii wazeer-e-khazana tha jab khazana tha
Wo shaakh hee na rahee jis pe aashyana tha
In 1998 when US sanctions were imposed after Pakistan conducted nuclear tests, a verse of a Karachi bus read:
Hamari mushkil too aasaan karde
Clinton ko yarab Muslaman karde
The following verses also drew wide applaude:
Dil diya tha tohfa samajh kar
Kam bakht baith gaee sohfa samajh kar
Itna dubla ho gayaa houN sanam teree judai se
Ke Khatmal bhee mujhe kheich lete haiN chaarpaai se
Jo dil pe banee hai raqam karte rahaiNge
Kal tumko bataa deiNge raqam kitnee banee hai
Syed Ilyas Ahmed concluded his presentation with the popular poem of well known humorous poet Anwar Masood, Doctor's Prescription.
Seemab Akbarabadi
Syed Ilyas Ahmed's humorous presentation was the second part of the literary gathering of the Urdu Academy. The first part concentrated on the life and work of well-known Urdu poet Seemab Akbarabadi.
Dr. Tahir Mahmood presented a well-researched paper on the life and work of Seemab, born in Agra in 1882.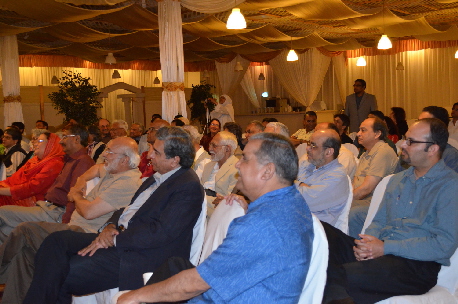 As usual a number of Urdu enthusiasts presented Seemab's ghazals which included: Hatim Rani, Javaid Umerani, Lubna Manzar, Mehmood Hassan, Meraj Sultana Ghazali, Misbah Rehman, Mukesh Kackar, Naseer Humayoun and Abdus Sattar Ghazali. Atia Hai and Talat Khan stole the show with presenting Seemab's ghazals in their musical voice.
Seemab was a disciple of Nawab Mirza Khan Daagh Dehelvi. Seemab had said that his fore-father had migrated from Bukhara sometime during the reign of the Mughal Emperor Jahangir and made Agra his home.
Seemab wrote in all literary formats and on all social and political aspects; like Iqbal and Hali he too was a crusader who spoke from the heart. In 1948, he went to Lahore and then to Karachi in search of a publisher for his monumental work, " Wahi -e - Manzoom ", an Urdu translation in verse form of the Holy Quran. He failed to find a publisher. Seemab did not return to Agra because in 1949 he suffered a massive paralytic stroke from which he never recovered and died on 31 January 1951. His translation of the Quran was published thirty years later.
The literary evening ended with a vote of thanks by Tashie Zaheer, President of the Urdu Academy of North America. He particularly thanked Syed Sarwat, proprietor of the Chandni Restaurant for patronizing the Urdu language in the SF Bay Area.