Urdu Academy pays tribute to Miraji
Urdu Academy of North America dedicated its November 21, 2010 monthly literary session to pay tribute a great Urdu poet Miraji. The event, presided over by Dr. Ghazala Ansari, was held at the Chandni Restaurant. Naseer Humayun was MC of the program.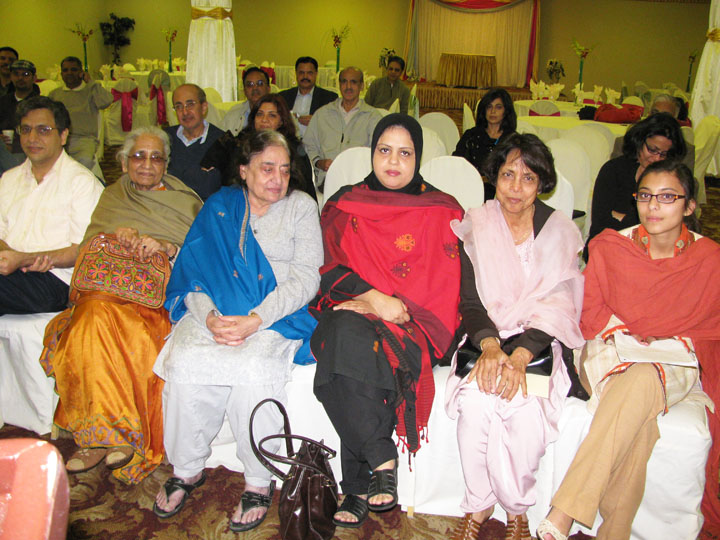 Among those who presented Miraji's poetry included: Asim Bajwa, Ahmar Shehwar, Abdus Sattar Ghazali, Jawed Umrani, Meraj Sultana Ghazali, Mukesh Kackar, Dr. Ghazala Ansari, Dr. Tahir Mehmood and Waqar Ahmed Khan. Hatim Rani captivated the audience with presentation of Miraji's poem in his melodious voice.
Little Simone Salman once again stole the show with her electric presentation of Miraji's poem:
Anokha Ladda Khelan Ko MaNge Chandrma
This was her third appearance with the blessings of her grandmother, Dr. Ghazala Ansari, who spends lot of time to prepare Simone for such an electric presentation.
Naseer Humayon presented maqala on the life and work of the controversial poet.
MIRAJI (1912-1949) was an unconventional poet who inaugurated the modernist phase in Urdu poetry. Miraji's poetry was experimental in form, theme and content. He wrote sensuous impassioned poetry that was full of skepticism. He died young at the age of 37. Nevertheless, despite his short-lived career, his leadership of the Halqa-e-Arabab-e-Zauq (Society of Those of Discerning Taste) in Lahore influenced the molding of modernity in Urdu poetics. He also served as Editor of literary magazine Urdu Adab.
He was born as Sanaullah Dar in Lahore. He fell in love with a Bengali woman called Mira Sen, whom he never got to know, and took her name.
Miraji was a contemporary of Faiz Ahmed Faiz (1911-1984) and Noon Meem Rashid (1910-1975). They grew and wrote amidst the tumult of the twentieth century: the anticolonial movement and the growth of nationalism, the clash of political and economic ideologies, world war, and the insidious stirrings of modernity.
Though they wrote different kinds of poetry, the three, Faiz, Rashid and Miraji, interacted and corresponded on poetic subjects. In fact, Rashid talks of Miraji in the same breath as Mir and Ghalib. He says that their frustration and loneliness, their pain and claustrophobia are shared or collective, but in the understanding of their poetic selves, their experiences are filtered through the sieve of their individualities.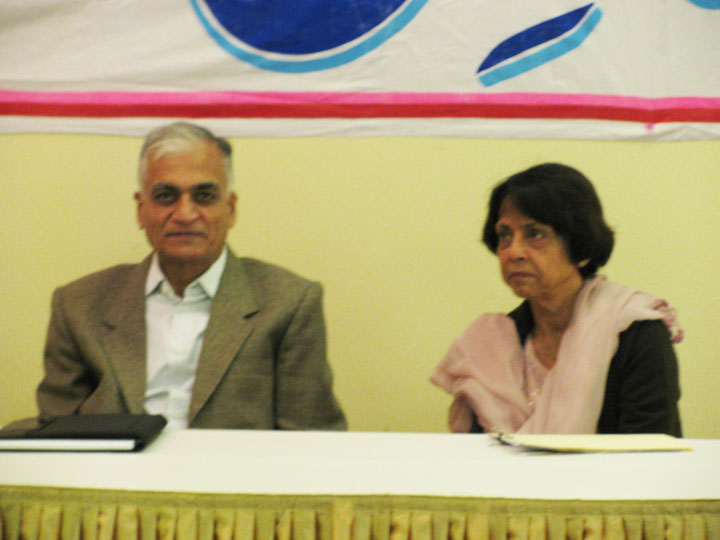 Since the late 1980s there has been a surge of interest in Miraji. Jamil Jalibi first compiled and published the collected poetry of Miraji, Kulliyte Miraji (London: Urdu Markaz, (1988), and then followed it with his comprehensive study of the poet, Miraji: Ek Mutala'a (Lahore: Sang-e-Meel, (1990). There have been a series of publications since, the most recent being Geeta Patel's postmodernist study, the first in English. My initial reaction (I feel tempted to say kaifiyat) on reading Geeta Patel's Lyrical Movements, Historical Hauntings: On Gender, Colonialism and
Desire in Miraji's Urdu Poetry was one of empathy with the earnestness and passionate involvement of the author in the subject of her dissertation, as well as exasperation (or Jhunjhulahat as Patel would say) with her tiresome overuse of Urdu words and phrases.
While Miraji may not be placed on a par with Ghalib, Mir, Sauda or Iqbal, he holds his own special niche.

Simone Salman Dr. Ghazala Ansari Meraj Sultana Ghazali Ahmar Shehwar