Urdu Academy session on Riaz Khairabadi
Urdu Academy of North America held a literary evening to highlight the life and work of famous Urdu poet Riaz Khairabadi. The event was held at the Chandni Restaurant in Fremont/Newark, CA on October 17, 2010.
The second session of the event was dedicated to the inauguration of Parvin Shere's book Nihaal-e-Dil Par Sahaab Jesey (Raindrops on Parched Land). A report about the inauguration of the book can be read at: http://www.urduacademy.org/html/parvin_shere.html
The event was presided over by Prof. Waris Shere while well known painter, poetess and instrumentalist, Parveen Shere was chief guest.
Among those who recited Riaz Khairabadi's poetry included Simone Salman. This was her second appearance in Urdu Academy's program.
Simone began by reciting a beautiful couplet of Riaz Khairabadi,
Mai rahe, meena rahe, gardish meiN paimaana rahe
Mere saaqi too rahe, aabaad maikhana rahe
After commenting that although the poet was a teetotaler, but his poetry was full of such verses she went on to recite the ghazal: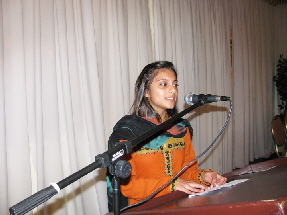 Paarsaaee ka yaqeeN ghair ko dilwaate hain
Aur jo be saakhta aajaaye tabassum mujh ko
KhaanqaaheiN to hazaaroN haiN, magar jee bhi lage
KaheeN thoRi si jagah de do pas e khum mujh ko
Daad khwahoN mein dam e hashr jo dekha hai reyaaz
Pyaar se poochte haiN, bhool gaye tum mujh ko
Others who recited Riaz Khairabadi's poetry included: Asim Bajwa, Dr. Ghazala Ansari, Jawed Umerani, Meraj Sultana Ghazali, Mukesh Kachar, Abdul Razzak Adenwala and Tashie Zaheer.
Dr. Tahir Mahmood was MC of the program. He also read a research article on the life and work of Riaz Khairabadi.